The Spa project includes an open and barrier-free wellness center, with a game of concentric circles open to the sea.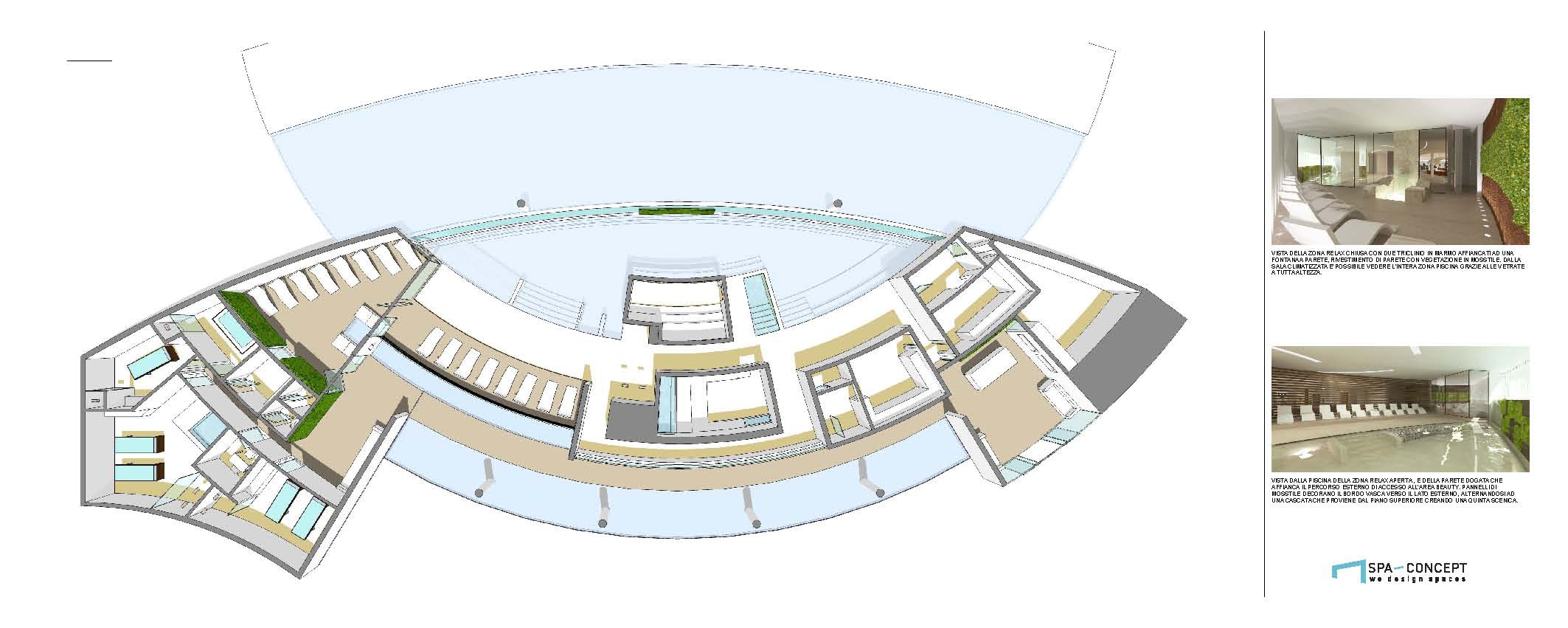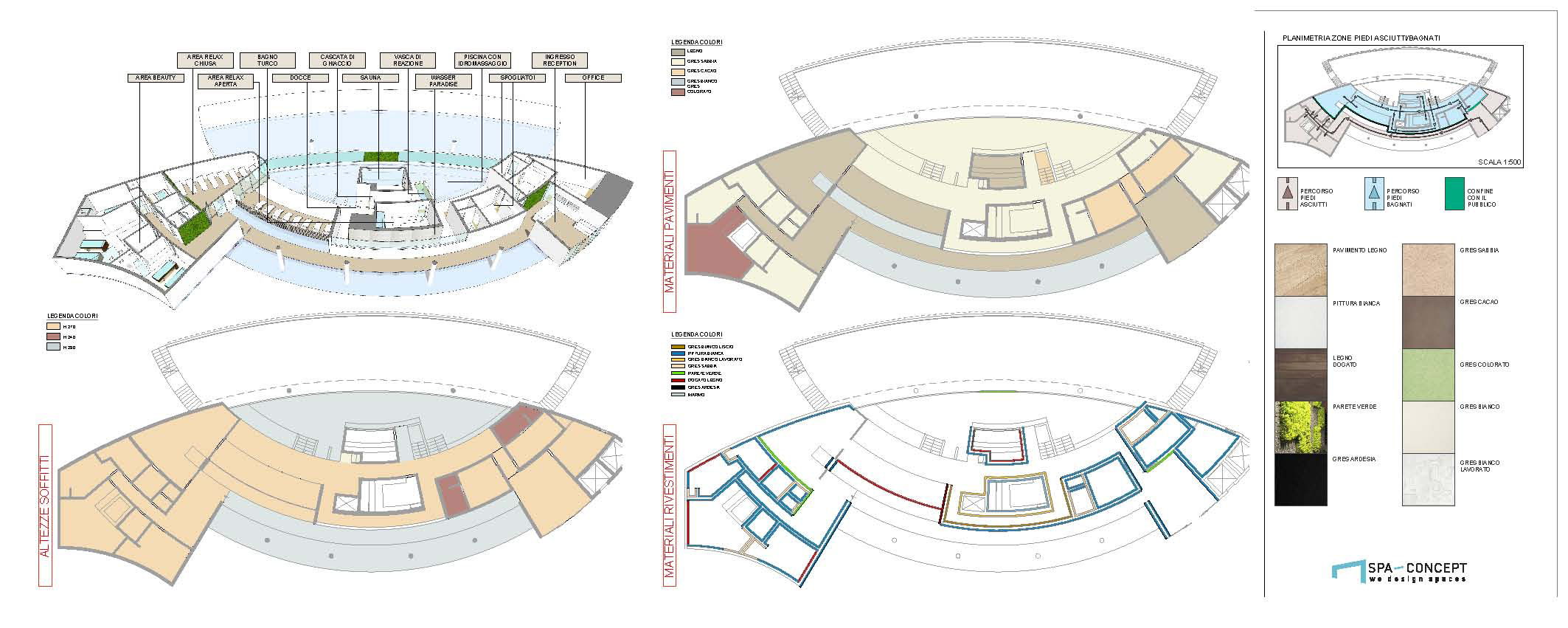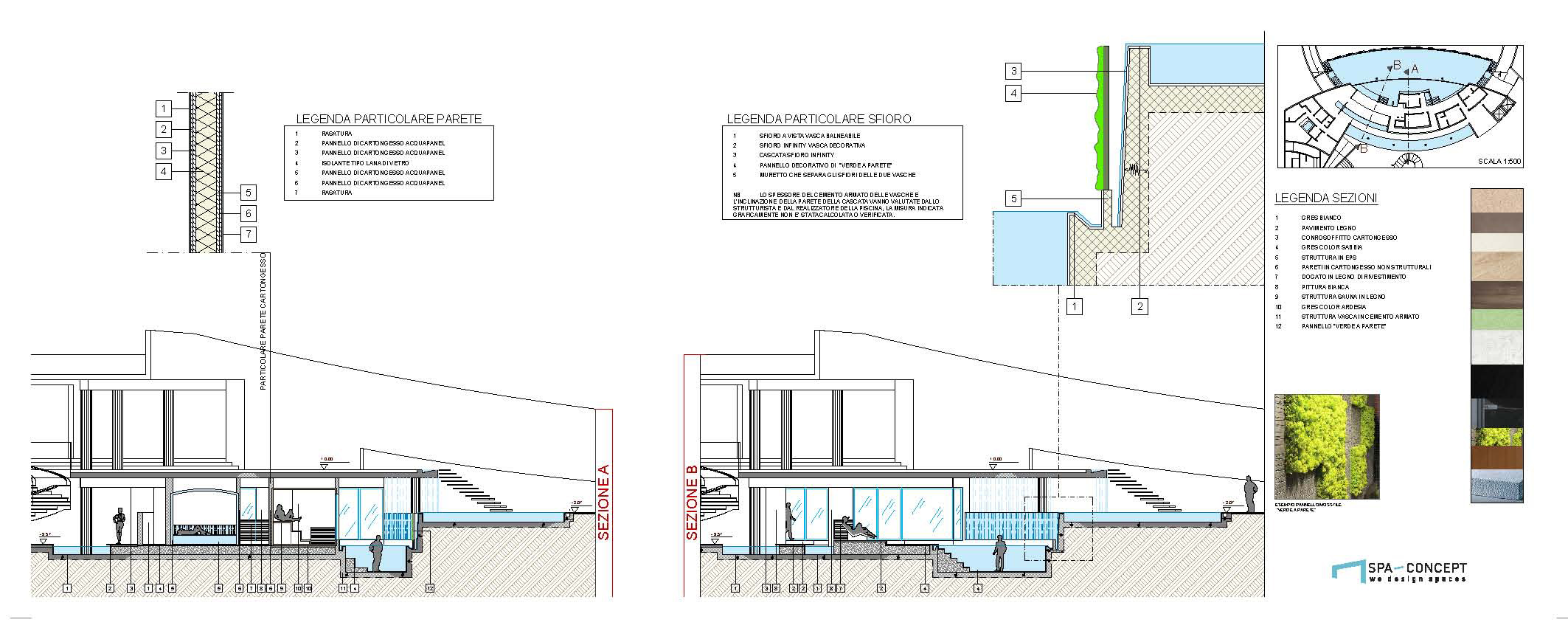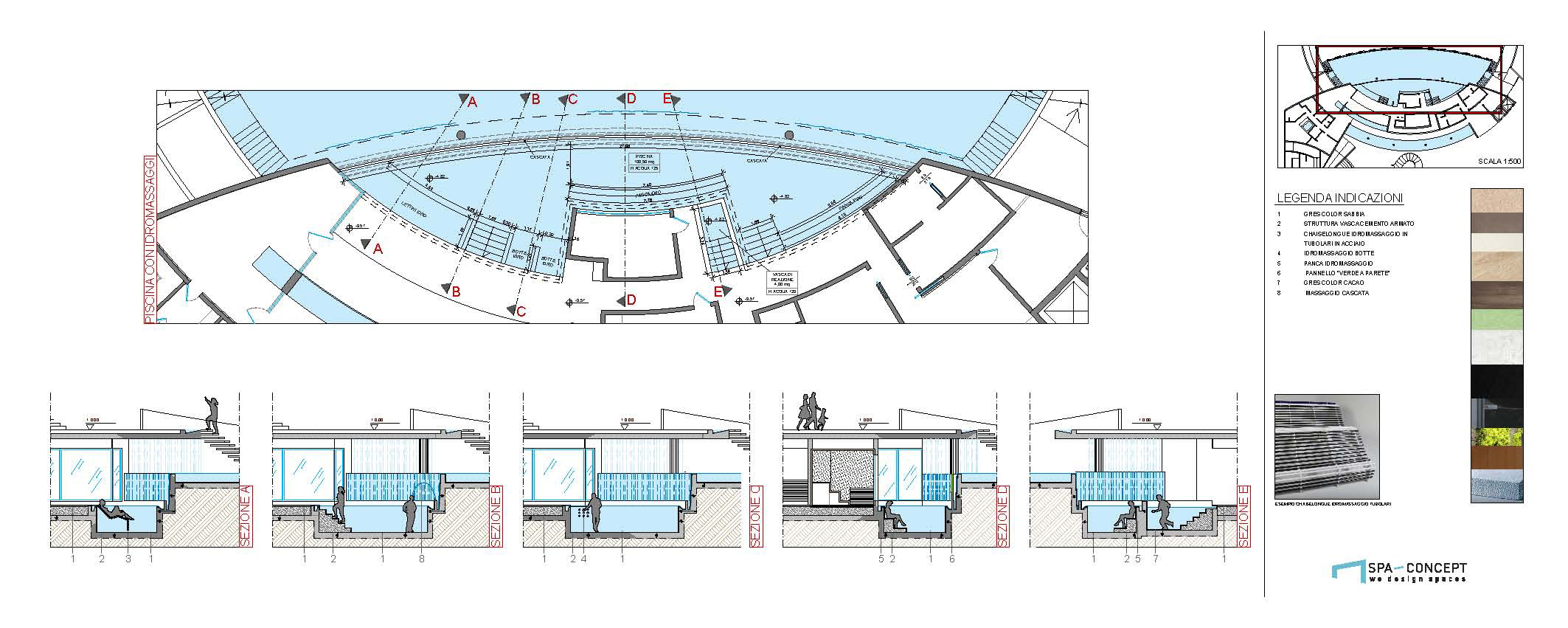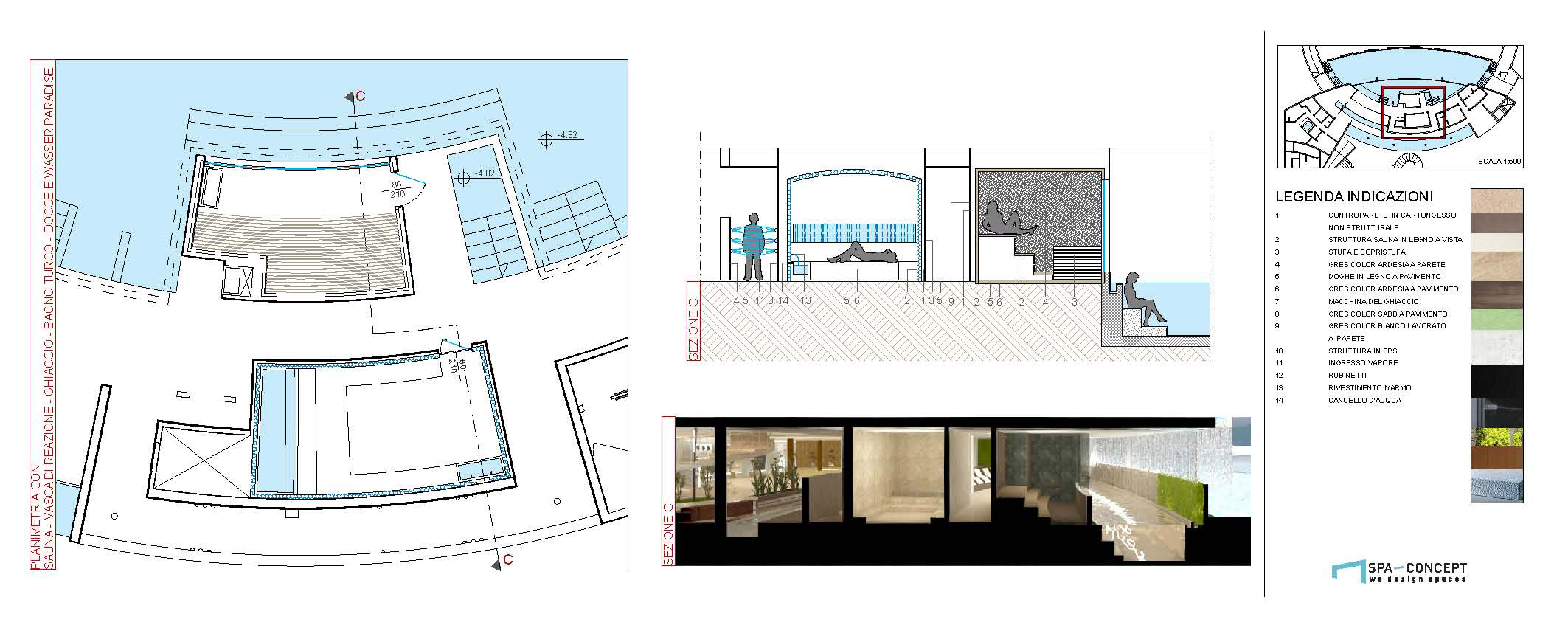 Description of the Spa project
Location
Maceiò (Brazil)
Position
Overlooking the sea
Area
10 hectares shared among beaches and a small natural park of mangroves.
Structure
6 stars resort, with 204 room, 16 suites, 140 flats, 4 restaurants, 1 theatre, 8 shops, inside and outside spa, 2 gyms, 6 external pools, 2 internal pools, route of life.
Inside Spa
Pool with 3 hydromassage stations, 2 barrel•shaped and waterfalls, wasser paradise, turkish bath, sauna, cold pool, tepidarium, ice pool, emotional showers, couple suite spa, Nogravity box, beauty/hair box, beauty box, relax, room for infusions, dressing rooms, reception, office and kitchen.
Outside Spa
4 gazebo massaggi, nebbie fredde, e docce emozionali, idromassaggi, piscina con isole, palestra.
Materials
Marbles: brown amani and A ex class botticino, gres Mutina, wood: whitened walnut and hemlock; asi 316 acid etched steels, triple and double glazed toughened glass, lichen walls.
The project
Considering the position in front of the tropical sea and the image of freedom that Brazil suggests to tourist's imaginary, we decided to create an
"open" spa
, without any optical or shape restraint. It is in this way that this
wellness area was born; entirely planned on a series of concentric circles
, placed in an open air space which is at the same time enclosed, without entry or exit doors. A fresh air flow crosses the space between the two big waterfalls and the back side that is totally opened toward the accessing hall, giving a Venturi effect; despite the open space the privacy a person needs in a
wellness center
is never left away.
At the entry you find an essential reception with the office; a "water route" starts on the left side and independently brings to the beauty area that includes: a waiting room, the bathrooms, a small kitchen to prepare finger food and fruit juices, a nails area, an aesthetic box for couple treatments with 2 massage tables Zerol, a Nuvola box and a suite spa for couples with massage tables Zerol and a hydromassage pool.
Going on along the reception you access the wet area, where you can avail two dressing rooms, a turkish bath with a bottom-enlightened pool equipped with fall seatbacks and, on the back, a big Wasser Paradise where you can enjoy the water side jets, water gates, the water falls for cervical massage, geysers working with contrasting temperatures, cold fogs and tropical rains with aroma.
In front of the Wasser Paradise there is the sauna with a wide glass wall offering a "fresh" view over the outside water falls; at the exit you find a cold pool, an ice area and two showers. Going on along the route you get to an outdoor relax area and to an indoor one with chaise longue, a double triclinium and a water fall.
The half moon running along the spa defines a pool which, even if on different levels, creates a continuous optical effect architecturally divided by a concealed double slot. A pool with a tubular bench and air hydromassage, 2 barrells equipped with 15 side hydromassages, 2 big benches with air/water hydromassage and 4 water falls for the cervical massage complete the pool.