Essential and elegant Spa in the center of Milan. The material is natural solid marble worked and laid with particular techniques.
Early this year, "Habits Culti" was opened. It's a day spa in the city center, just a short distance from Corso Vercelli with a refined, essentialist feel and it was created by Daniele Cantoni, founder of Spa-Concept.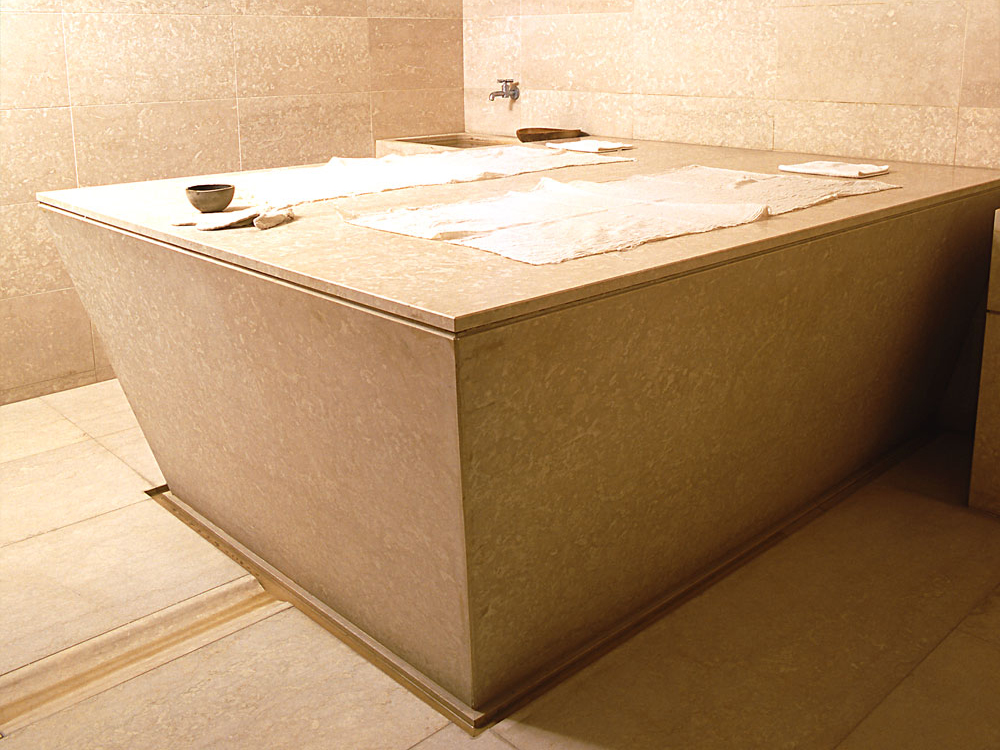 The ground floor is home to the Café-Restaurant Noy, with it's sober design, a shop that sells flowers, plants, chocolates and other similar products and an automobile sales shop. A broad, s implistically but elegantly designed staircase with crystal parapets and a skylight above it leads to the sub-basement level where the spa is located. The reception desk bears the same relaxing, soft tones as the walls and appears to be situated in a sort of town square, surrounded by chairs and benches placed under wooden umbrellas, covered with cream-colored material. The entrance to the women's area is on the left, along with an office and an area for
private treatments
. The men's area, a separate section running parallel to that of the women, is off to the right. There are also
two "common rooms", with floating tubs
(used alternately by women and men) and a
relaxation room
.
The walls and floors of the spa's dressing rooms are in beige tones which compliment the warm feel of the wooden lockers and the ivory curtains around the changing areas. The decor is completed by a large bathroom. A hallway leads to the first rooms of the SPA, which are the two "common rooms", where you will find a "cloud" tub in the center for flotation. These rooms can be used with or without a technician. This area is completed by two other treatment rooms for women and one for men.
The next area is made up of steam rooms, finished with strips of light-colored marble, which were individually designed, cut and lain in beautiful patterns. The turkish bath has a vertical slit in the wall, from which a ray of light enters, reproducing a natural sunlight effect. This is achieved by the use of a ceiling projector, whose light is refracted and directed by a vertical crystal. The two single whirlpool baths are made of marble and are shaped like chaise lounges. They are self-sanitizing and all of their programs can be managed by a single switch.
The distance between the two tubs has beens studied in order to allow for dialog between the two users without the invasion of either one's privacy. They were positioned taking into account necessary inspections by technicians and you can therefore easily walk around each one. The shower room has no doors and has "blade" showerheads and ones with variable streams of water. There are also two areas where you can sit and use cold fog. This area is all in one level, with the floor tilted slightly towards the shower drains. The ample hamman room, with its heated walls, completes the steam room area.
A unique air recirculation system helps to maintain a constant temperature in all the rooms. The designer Daniele Cantoni is known for his essentialism and elegance, as well as his care in developing rooms that are easy to clean and maintain. Each of these qualities is particularly evident in this particular area of the SPA. The final room that you come to is the relaxation room, whose lounges and wooden floors make the guest feel particularly welcome.
What was the first thing you thought of in designing the Habits Culti Spa?
Before beginning to design a new spa, we usually have a series of meetings with the owner to determine what his "real" objectives are. We then provide him with a meticulous business plan that supports his objectives. In this case, a series of factors (the property, the neighborhood, the already-existing contacts) caused us to opt for a design that would aim to reach a very high class market. Today (a few months after the spa's opening) we can say that we made the right choice and it has been reinforced by the current client base. To reach our objective, we designed a spa that could be regarded by its clients as somewhat of a "little vacation getaway" in the middle of the city of Milan. At the same time, we also wanted it to be a place where a businessman could spend some time "meeting" with a client (as they did in the ancient Roman baths), rather than always having to resort to the office or a restaurant. For this reason, we designed facilities that can be used by two people at the same time, in order to facilitate both objectives.
What materials did you use?
Marble, glass and wood, but mostly marble and of a single color, that was prepared and laid using special techniques. For example, the making of the two hydro-massage tubs (which are shaped like chaise lounges) using solid blocks of marble. To obtain a uniformity in the different shades of color, our marble cutters began by selecting directly from the mining site the exact piece that is best for our purposes. They then work on it with laser and cut and number each piece individually before laying it and this enables us to make curves and shapes that are normally very diffcult to make with marble. All of the wood floors have a drainage system to allow them to air out well and to enable the area below them to be cleaned. Smoked glass was used for the steam room doors, for dividers in the internal areas and to cover some walls.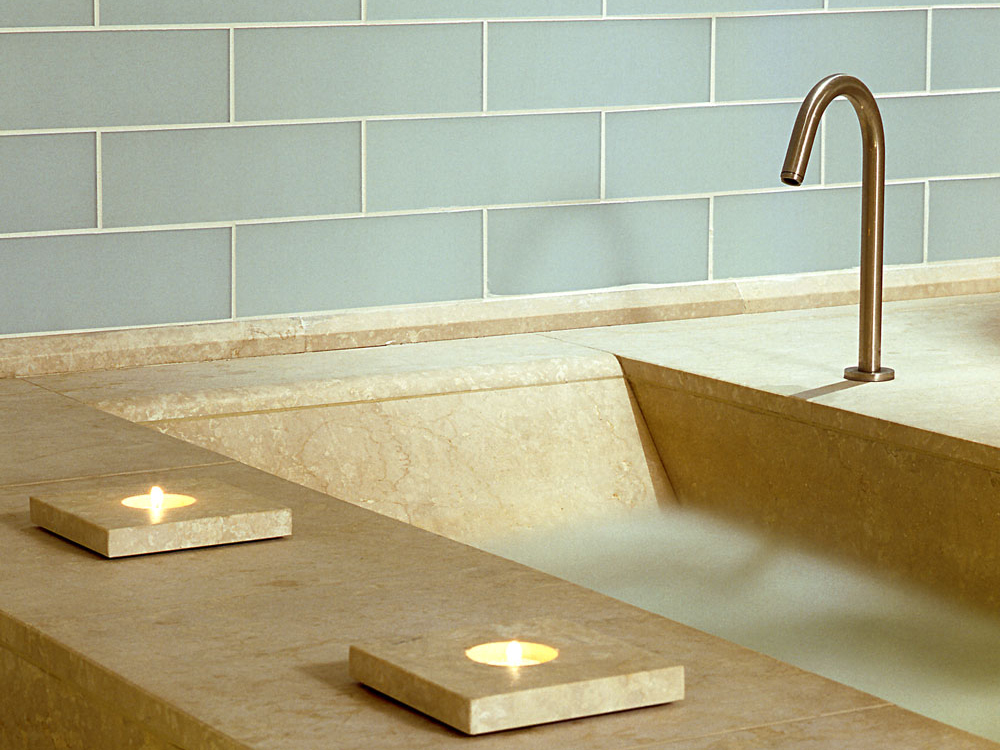 What characteristics tell us that a facility was designed by Daniele Cantoni?
Aesthetically speaking, its extreme "purity" with regards to the shapes and materials used, its use of sunlight, even resorting to the use of refractors when its impossible to use direct sunlight. To help you understand what I mean, let me say that we've never designed nor installed a fiber optic "starry sky". You can tell by the extra attention given to the choice and layout of the different facilities, which are in synergy with modern ideas in the field and in harmony with the property's "mission". We are known by the fact that our architectural projects follow a clear business plan (which we develop) rather than vice versa.