Panta Rei - Spa-Cafè in Capri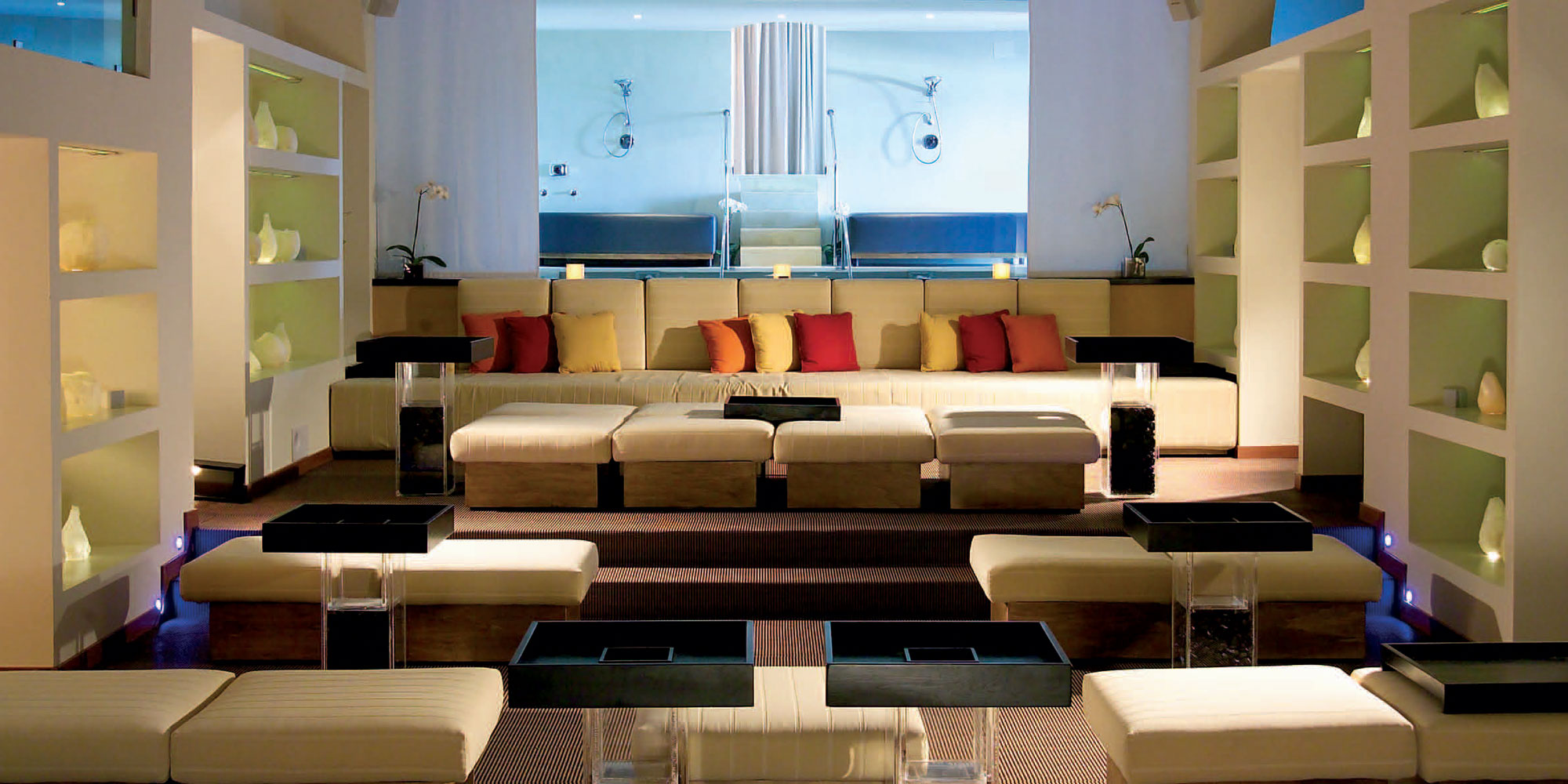 The latest Spa-Concept creation, Panta Rei, was recently opened in the heart of Capri, 100 metres from the main square. The club, located in an old cinema-theatre, provides every treatment and technology found in a normal SPA together with a club for evening entertainment. The entrance is reached through an alleyway covered by bougainvilleas.
The SPA covers 90 m2 of the 500 m2 total floor area. Behind the reception desk is a tasting area and a shop where clients can buy products made exclusively for the club. The main hall contains an area used as the SPA relaxation area by day and the heart of the club by night. At the side of the hall is a bar where aperitifs made from local products can be tasted. The back of the hall is where the health area is located, with a 16 m2 whirlpool bath and two settees covered with water repellent material, which are used as the massage-shower area.
On the left is the "control room", from where five different sorts of music can be piped to the various parts of the club. The entrance to the steam baths is at the side, and this includes a hammam, a Turkish bath, a sauna, a Nuvola bath, a standard shower, a cold bath with mint essence and a jet steam shower. At the top of the stairs is the beauty area, which includes two massage parlours. Treatment includes purification, anti-stress and "velvet skin" treatment.
The whole club has large glass façades, from which the splendid Gulf of Naples can be admired. Innovative luminous screens made of reagent chemical colouring are used for the lighting and cover all the shelves in the club. A special atmosphere is created inside the club by about a hundred wax vases illuminated by optical fibres. The main materials used are marble, resin, synthetic tatami, fire-proof cotton and black river stones. The colours were chosen to reflect the Mediterranean aspect of the club. The large terrace (150 mq) includes open lounge areas where clients can relax on chaise-longues outside or have a massage in one of the gazebos.
Spa-Concept has taken care over every detail, from choosing staff to sales packages, from choosing the wines to the realisation of cosmetic products, from the settee covers in the SPA to the music.